Many people have wondered what it would be like if animals could talk. Few have asked if they could sing jazz and scat a vocal solo! Yet, that is precisely what Tico the parrot does with Frank Sr., his friend, and owner.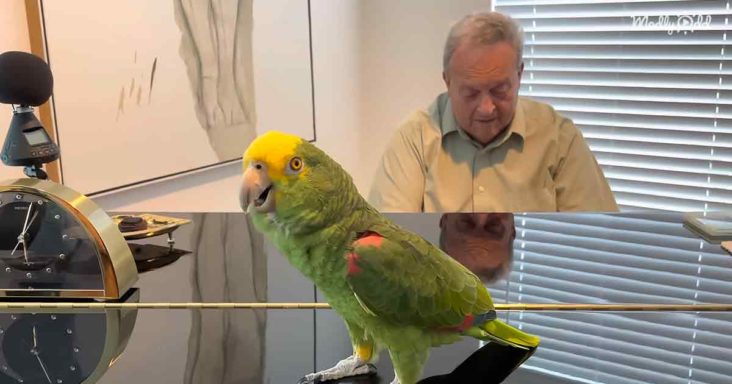 Frank plays piano with excellence. He begins by playing the classic jazz standard 'Makin' Whoopee.' Tico seems to be totally content standing on top of Frank's piano as it vibrates with sound.
Tico waits patiently to add his amazing vocals to the song. Once he starts, it is hard to believe the sound is coming out of his beak! He is really scatting! Like the great jazz legends who came before him, Tico sings like Louis Armstrong or Ella Fitzgerald.
Frank is wearing a yellow shirt while Tico's green feathers and body reflect in the black piano top. His yellow head moves slightly when he sings, but otherwise, he is perfectly still.
Frank starts the medley's second song,' You Must Have Been a Beautiful Baby.' He looks at Tico in amazement. The parrot waits patiently for the piano. He sounds like he's choosing the precise moment to improvise a vocal at one point.
Tico's beak moves with his syllables, and his tongue comes out of his beak on long notes. He stands perfectly still while delivering the melody to complement the pretty piano playing.
Tico seems to enjoy choosing when to add his vocals. He leaves space for some piano, then belts out some scatting syllables.
This parrot is expressing himself with soulful singing! It is one of the most unique and unbelievable performances you will ever witness.
(Visited 44 times, 1 visits today)