This is a touching story about a led who was able to rescue a dog who was kicked by a car in a traffic jam. Luckily there such nice people who can do even impossible not only for their loved people but also for unknown animals.
The boy is a real and true hero. He did not even think about his life and gave his life for this poor creature.
The name of tge boy is Jean Fernandes. He is from Brazil. He is only 11 years old. He noticed the cute puppy making noises in despair. Luckily the boy acted quickly and could save the injured puppy.
The dog was neglected hit by a car and nobody even noticed the hopless dog. He could not look at the dog suffering from pain. He quickly ran to the dog stopped the full traffic and took the puppy in his arms and saved him.
Gratefully Rafael Martins a photographer took photos of view how the boy saved the dog. These photos were downloaded on social media and many people praised his act. One woman even said that the boy is older than many old man.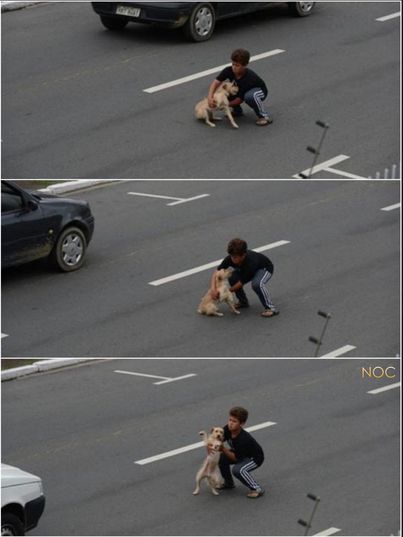 The parents of the boy even told that they are not surprised as their son just adores animals. He always gives hand to all animals in need of support.
The dog rescued by this dog is named Mel. The dog was taken to a medical clinic where he is cured and looked after very well. Soon he will recover and be in a good health state.
Here is the video:
(Visited 193 times, 1 visits today)